A service system
that facilitates exhibitors.
Exhibitors wishing to participate in one of the over 30 events of the Pordenone Fiere calendar, dedicated either to specific sectors of industry, commerce and services, and to varied public interests, can rely on an easy to access location, close to motorway exits and train station, and just an hour away from the nearest airports.
During the preparation and execution of events Pordenone Fiere offers to exhibitors a complete, advanced and efficient service system, divided into five areas: technical-logistical services, personal services, catering services, administrative services and communication services.
Downloading the general Venue Guide will supply detailed information on the terms of participation of exhibitors at the events of Pordenone Fiere.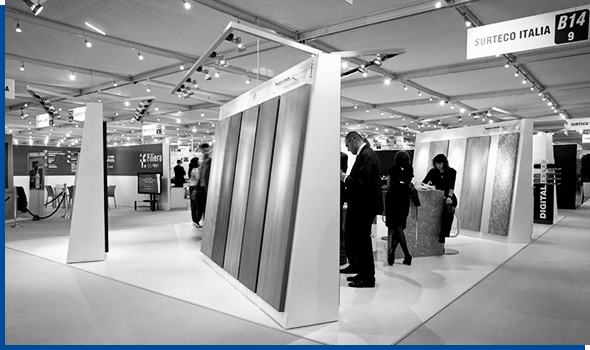 Technical-logistic services
Consultancy in the management and exploitation of exhibition spaces
Production of the general exhibition plan on dwg support
Drafting the exhibitors services guide
Preparation of all security controls for the venue and the stands
Design of exhibition layouts
Supply and assembly of pre-arranged and customized stands
Rent of additional furniture
Electrical, water and telecommunications supply (telematic connections, Wi-Fi, telephones)
Ticketing system:

planning and sizing of ticket offices
management of SIAE procedures
production and management of different types of entry certificates
access control
tax reports
inflow statistics

Parking lots
Shuttle bus service for parking
Night and day surveillance
Rooms for business meetings
Conference rooms
Rental of plants
Photoshooting
Loading and unloading of goods
Storage of Packaging
Material transport at the event and return, material delivery service
Compulsory and additional insurance
Cleaning service
Design, construction and rental of advertising posts within the exhibition venue.
Exhibitors reception and assistance for through qualified personnel (SATE office)
Visitor assistance through qualified personnel (Service Center and Ticketing)
Staff (hostesses and interpreters)
Access control personnel
1 restaurant
Quality self-service
6 bars and snack points
Catering service organization at exhibitors' stands and in conference areas
Paypal area payment service and exhibition services
Promotion of the exhibitor's participation in the event through the inclusion of the exhibiting company and the products / services presented by the exhibitor in the printed and online catalogue, internal signboards, newsletters, social pages and website.
Exhibitor Technical Assistance Service:
a dedicated structure.
The SATE, Exhibitor Technical Assistance Service provides assistance to exhibitors before, during and after the events. Housed in the right-hand side of Hall 5, in the heart of the exhibition centre, it is structured as follows:
1 reception room
1 reception office
2 exhibitors' reception offices with 3 workstations
1 office / meeting room with an oval table and 6 chairs
1 storage room and in conference areas
All the spaces are equipped with PCs connected to the local network, with internet access via cable or wifi, a telephone with external line, portable direct phones with coverage of the venue area. Fax, photocopier and safe are also available.